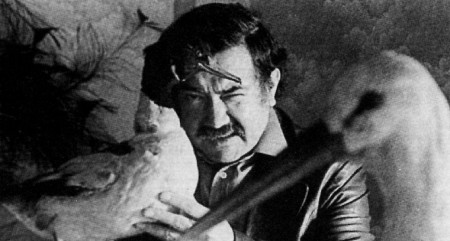 Directed by: Raoul Ruiz
Script: Raoul Ruiz & Benoit Peeters
Camera: Patrice Cologne
Sound: Jean-Pierre Buisson
Editing: Valeria Sarmiento
Cast: Brigitte Coscas, Jessica Forde, Ilma de Witte, François Berthet
Original Version: Feature, French, 35mm (blow up), 105′,color.
Release: 1987
LA CHOUETTE AVEUGLE
Le Narrateur, un arabe immigré d'environ 35 ans, H., est projectionniste dans un vieux cinéma. Un jour, attiré par la musique, il regarde par la lucarne et ce qu'il aperçoit le fascine: la danseuse du film semble le fixer droit dans les yeux. Il tombe amoureux d'elle, mais la vision n'a duré qu'un seul instant et la jeune femme ne réapparait plus. Peu après, un vieil homme fait irruption dans la cabine et prétend être son oncle. H. veut lui préparer un repas et saisit une bouteille d'huile. Sur l'étiquette il retrouve l'image de la danseuse.
THE BLIND OWL
H., 35, an Arabian immigrant, works as projectionnist in an old cinema. One day, drawn by the music, he looks through the window of the booth and is fascinated: the dancer he sees on the screen seems to be looking straight into his eyes. He falls in love with her, but the vision last only a moment. Shortly afterwards, an elderly man storms into the projection booth and claims he is his uncle.
H. wants to prepare a meal for him and reaches for the oil bottle: he sees the same dancer on the label.
Photographies