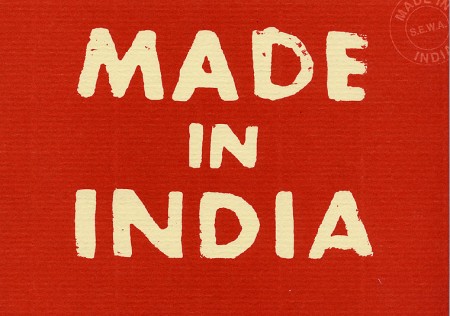 Directed by: Patricia Plattner
Script: Patricia Plattner
Camera: Séverine Barde
Sound: Susanna Kumschick
Editing: Maya Schmid
Music: Live Indian music
1er prix des Indépendants, Festival Media nord/sud,1999, Suisse
Prime à la qualité de l'Office fédéral de la culture, Département fédéral de l'intérieur, 1999, Suisse.
Original Version: Doc., English/Gujarati, 35mm (Beta D, blow up), color, 91′, Subtitles: English, Français, German.
TV Version: 55′, color, 1999.
Release: 1999
MADE IN INDIA
Dans l'Etat du Gujarat, sous le nom de SEWA (Self Employed Women's Association), des femmes ont conçu un modèle original de syndicat.
En 1998, elles sont 217'000 membres en Inde. Le but de SEWA est d'organiser les travailleuses indépendantes, les femmes pauvres, de métiers divers, celles qui travaillent à la maison, dans la rue, dans les champs, sans employeur fixe, au jour le jour. Elles sont de religions et de castes différentes. Elles ont créé sous forme de coopérative leur propre banque. Elles se préoccupent aussi de leur santé et de leur formation. Inventives et fortes, elles sont sorties de l'ombre.
Le film raconte la démarche de SEWA à travers les voix de six d'entre elles.
MADE IN INDIA
The Self Employed Women's Association (SEWA) is a unique sort of trade union, first created in the state of Gujarat. In 1998, it has 217'000 members throughout the sub-continent. SEWA has set out to organize India's countless extremely poor women, whether they work at home, in the street or in the fields, doing a variety of jobs but having no permanent employer so that they may be considered self employed. Issued from many different religious and caste backgrounds, the SEWA women have created their own cooperative bank. SEWA is also concerned about such issues as health and training. Inventive and courageous, these women have stepped out from the shadow. The film tells the story of SEWA with the voices of six of its members.
MADE IN INDIA
Im Staat Gujarat haben Frauen unter dem Namen SEWA (Self Employed Women's Association) ein neuartiges Modell einer Gewerkschaft entwickelt. 1998 zählt die Assoziation in ganz Indien 217'000 Mitgliederinnen. Das Ziel von SEWA ist der Zusammenschluss der selbständigen Arbeiterinnen, der bedürftigen Frauen aus verschiedenen Berufen, Frauen, die tageweise und ohne festen Arbeitgeber auf der Strasse, zu Hause oder auf den Feldern arbeiten. Die Frauen gehören verschiedenen Religionen und Kasten an. Auf der Grundlage einer Kooperative haben sie eine eigene Bank gegründet und befassen sich auch mit Fragen der Gesundheit und Ausbildung. Stark und voller Erfindungsgeist sind sie aus dem Schatten getreten. Der Film schildert die Arbeitsweise von SEWA durch die Stimmen von sechs beteiligten Frauen.
MADE IN INDIA
La Asociación de Trabajadoras Por Cuenta Propia (SEWA por sus siglas en inglés) es un sindicato único que se creó por primera vez en el estado de Gujarat. Actualmente cuenta con 217.000 miembros en todo el subcontinente. El cometido de SEWA es organizar la situación de innumerables mujeres pobres en India que trabajan en casa, en la calle o en el campo. Estas mujeres realizan una gran variedad de trabajos pero no tienen un empleador permanente. El propósito de SEWA es proporcionarles una condición de trabajadoras auto empleadas. Las mujeres de SEWA, procedentes de un sinfín de religiones y castas, han creado su propio banco cooperativo. SEWA se centra también en cuestiones como la salud y la formación. Estas creativas y valerosas mujeres han emergido de la penumbra. La película cuenta la historia de SEWA a través de seis de sus miembros.
Photographies