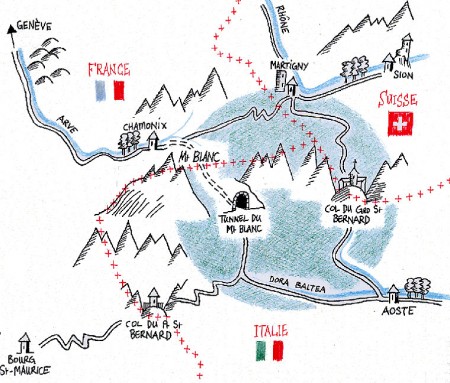 Directed by: Patricia Plattner
Script: Patricia Plattner
Camera: Romed Wyder
Sound: F.-Christophe Marzal
Editing: Patricia Plattner & F.-Ch. Marzal
Music: La Kinkerne et amis, Schubert
Original Version: TV Doc., French/dialect, beta sp, 43′, color
Release: 1997
UNE HISTOIRE QUI ENJAMBE LES ALPES
Autour du Mont-Blanc, trois vallées, trois pays: la Suisse, l'Italie et la France. Pays de montagnes, ils partagent la même culture, les mêmes patois, l'amour des vaches, des cloches, du fromage et de la contrebande.
Ce reportage nous fait découvrir différents personnages colorés qui nous font comprendre cette "appartenance alpine" sans frontière.
A STORY ASTRIDE THE ALPS
Fanning down from the Mont-Blanc, three valleys and three countries: Switzerland, Italy, and France. In a landscape of mountains, they share a common culture, a common dialect, and the same love for cows, bells, cheese and contraband.
This documentary introduces various colourful characters who offer us a better understanding of this alpine culture sitting astride national borders.