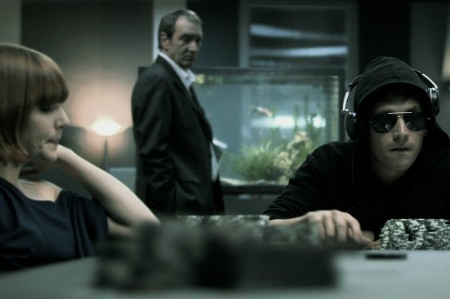 Directed by: Jean-Laurent Chautems
Original idea: Christophe Marzal
Script: Christophe Marzal, Jean-Laurent Chautems, Christian François,
Jean-Pierre Hasson, Christian Lyon, Patricia Plattner
Consultants: Sylvain Moreau,Yves-Patrick Delachaux 
Editorial line TSR : Françoise Mayor, Ariane Heyraud, Blandine Stintzy
Production: Patricia Plattner
Camera: Aldo Mugnier
Sound: Eric Ghersinu
Editing: Karine Sudan, Orsola Valenti
Cast: Jérome Robart, Natacha Koutchoumov, Philippe Mathey, Paulo Dos Santos, Séverine Bujard, Alice Rey, Bastien Semenzato, Bruno Todeschini, Moussa Maaskri, Sifan Shao, Sophie Lukasik, Martin Rapold
Original Version: TV Serie, HD, French, 10×26′
Release: Summer 2010
Grand prix au Festival de la Rochelle en 2010
"10"
En cette nuit de réveillon, dix personnes se retrouvent autour d'une table de poker à Genève.
Une petite partie entre amis ?
Au vu des sommes en jeu et des regards échangés, nous en sommes visiblement loin.
Mais alors qui sont ces personnes et que font-elles là ?
Quels liens les unissent ?
Qui est venu pour des mauvaises raisons ?
Qui triche ?
Qui confond mensonge et bluff ?
Finalement, la seule certitude est que cette partie de poker va se dérouler en dix épisodes et s'achève par l'intervention de la police.
Les dix épisodes nous permettent de découvrir progressivementles protagonistes, leurs alliances, désalliances, mésalliances, et secrets les moins avouables. Mais surtout, ce qui les a conduit à s'asseoir à cette table où certains d'entre eux jouent bien plus qu'une simple partie de poker.
"10"
New Year's Eve in Geneva. Ten around a poker table.
Simply a game of cards between friends?
But the stakes are high and poker-faced glances fly…
So who are these people and what brings them together?
All we can be sure of is that this game will be played out in 10 episodes and end in a police bust.
In ten episodes we find out - bit by bit - what makes these players tick, their links, loyalties, misloyalties, and their shady secrets.
So what got them all to sit at this table, some of them with much more on the cards than a straight poker game…
Photographies