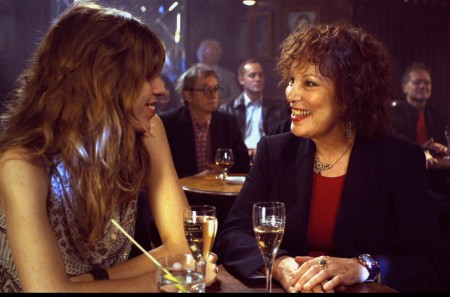 Directed by: Patricia Plattner
Script: Patricia Plattner, Aude Py, Blandine Stintzy, Christian Lyon
Camera: Aldo Mugnier
Art director: Ivan Niclass
Sound: Henri Maikoff
Editing: Loredana Cristelli
Music: Jacques Robellaz
Cast: Bernadette Lafont, Pio Marmaï, Lou Doillon, Sacha Bourdo, Jean-Paul Wenzel, Grégoire Oestermann, Alexandra Stewart, Vimala Pons, David Gobet
Original Version: Feature, French, 35mm / digital 2K , color, 103 min, Dolby SRD.
Release: Automne 2009
BAZAR
Gabrielle affiche une soixantaine pétulante.  Elle est passionnée par la vie et son métier d'antiquaire.  Elle savoure chaque instant, les fêtes avec ses amis, les moments passés avec sa fille.  Elle est le centre de tout un petit monde qui gravite autour d'elle.  Son univers est chamboulé lorsqu'elle reçoit un avis d'expulsion de son Bazar, le jour même où  elle apprend qu'elle va devenir grand-mère.
Quand ses amis lui conseillent de changer de mode de vie, de « lever le pied », elle entend qu'elle va être reléguée en retraite et leur tourne le dos.  Elle se jette à corps perdu dans une aventure amoureuse avec Fred, un jeune homme de vingt-cinq ans d'origine portugaise.
Fred vit de l'autre côté de la frontière suisse dans un squat industriel avec son copain, Niko.
Quel chemin vont parcourir ensemble ces deux électrons libres ?
Fred a-t-il les talents d'artiste plasticien qu'elle croit déceler en lui ?
Gabrielle va-t-elle perdre ses amis? Comment vont réagir Elvire, sa fille, et Gilles, son ami et amant de longue date ?
BAZAAR
Gabrielle, antique dealer by profession, has just turned 65. Still full of energy, her life revolves around the work she loves, time spent partying with a close-knit circle of friends, and the precious moments she shares with her daughter Elvire. But her world turns upside down when – on the very day she learns she is to become a grandmother - she receives notice to quit her beloved shop Bazaar.
Her friends suggest she take the easy option and slow down. Seeing this as one step towards retirement, she turns her back on their advice. Throwing caution to the wind, she embarks on a love affair with Fred, a 25-year-old of Portuguese origin. Fred lives with his friend, Niko just over the Swiss border, in an industrial squat.
How will these two "free spirits" get on together? Is Fred as talented a sculptor as she thinks he is? Will Gabrielle lose her circle of friends? How will her daughter, Elvire, and Gilles, her long-time friend and lover, take all this?
BAZAR
Die sechzigjährige Antiquitätenhändlerin Gabrielle geniesst ein erfülltes Leben mit ihren Freunden, ihrer Tochter Elvire und ihrem Beruf, den sie liebt. Als sie die Kündigung für ihr Geschäft in einem gutbürgerlichen Genfer Quartier erhält, geraten ihre berufliche Zukunft und ihr Gefühlsleben ins Wanken. Sie fürchtet sich vor der erzwungenen Pensionierung und verlässt ihre Freunde, ihren Geliebten und ihre Tochter. Mit dem 25-jährigen Bildhauer Fred aus Portugal bricht sie zu neuen Ufern auf.
Photographies