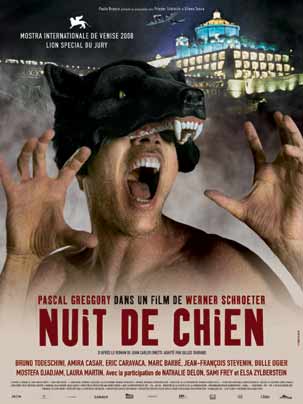 Directed by: Werner Schroeter
Script: Gilles Tauraud (D'après « Para Esta Noche » de Juan Carlos Onetti
Camera: Thomas Plenert (B.V.K.)
Sound: Pierre Tucat – Matthias Lempert
Editing: Julia Gregory – Bilbo Calvez
Music: Eberhard Kloke
Cast: Pascal Gregory, Bruno Todeschini, Amira Casar, Eric Caravaca, Nathalie Delon, Marc Barbe, Jean-François Stevenin, Bulle Ogier, Laura Martin, Sami Frey, Elsa Zylberstein, Mostefa Djadjam, Pascale Schiller, Lena Schwarz, Oleg Zhukov.
Mostra internationale de Venise 2008, Lion spécial du jury
Original Version: Feature, French, 35mm, Format 1.85, color, 120 min., Dolby SRD
Release: 2008
NUIT DE CHIEN
Gare de Santamaria – nuit. Ossorio, un homme d'une quarantaine d'années, descend d'un train au milieu d'une foule de réfugiés et de soldats épuisés.
C'est dans une ville assiégée que ce héros d'une résistance en débâcle tente de retrouver ses anciens alliés et celle qu'il aime.
Mais la situation a bien changé, et les amis d'hier n'ont plus le même discours. Tandis qu'une milice déchaînée terrorise la ville, chacun cherche désormais à sauver sa peau.
TONIGHT
Santamaria train station at night. Ossorio, a forty-year-old man, arrives exhausted with the crowd of refugees and defeated soldiers. He comes back to the city he knew to meet the woman he loves. But everything has changed. A violent militia terrorizes the city. Rival factions oppose. During the ultimate night, everyone tries to save their hide. Hopelessly.
Photographies