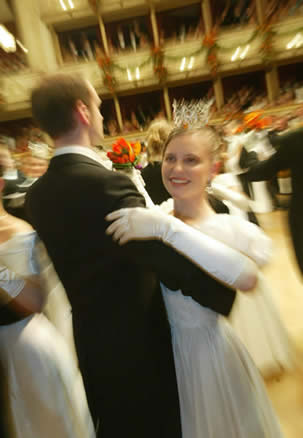 Directed by: Patricia Plattner
Script: Patricia Plattner
Editing: Loredana Cristeli
Camera: Johannes Hammel, Dominique Delguste, Aldo Mugnier, Alejandro Legaspi
Sound: Bruno Pisek, François Waledisch, Guillermo Palacios
Music: Waltzes of the world

Original Version: TV Doc., German/Français/Español, DVCAM, coul., 55', subtitles: Français, German, English. 
Release: December 2005
CARNETS DE VALSE:
Vienne - Paris - Lima
Révolutionnaire, la valse? Elle est historiquement la première danse où le couple s'enlace, homme et femme serrés l'un contre l'autre, tournoyant au rythme de la musique jusqu'au vertige et l'ivresse. Classique et viennoise, musette et parisienne, chantée et péruvienne, la valse appartient au patrimoine mondial. A Vienne, des étudiants se préparent
pour l'ouverture du bal de l'opéra. A Paris, des passionnés fréquentent dancings et guinguettes: «La musette? C'est du champagne en intraveineuse!» A Lima, la valse chante l'amour au son de la guitare et du «cajon».
WALTZ DIARIES :
Vienna - Paris - Lima
The waltz, revolutionary? Historically though, the waltz is the first dance where the couple embrace each other, where
bodies touch and move rhythmically to the music. Regardless whether the classic Vienna waltz, a musette from Paris or the sung waltz from Peru: the waltz is part of our world cultural heritage. The film follows Viennese pupils preparing for the opera ball, in Paris we witness passionate waltzers at various dance venues: "The musette? That's an intravenous dose of champagne!". And in Lima the waltzer sings with a guitar and "cajon" to love.
WALZER-TAGEBÜCHER:
Wien - Paris - Lima
Der Walzer, revolutionär? Historisch gesehen ist er der erste Tanz, bei dem sich das Paar umfasst, die Körper sich berühren und im Rhythmus der Musik bis zu Taumel und Trunkenheit drehen. Egal, ob es sich nun um den klassischenWienerwalzer, eine Musette aus Paris oder den gesungenen Walzer aus Peru handelt: Der Walzer gehört zum Weltkulturerbe. In Wien bereiten sich die Schülerinnen und Schüler auf den Opernball vor. In Paris besuchen die leidenschaftlichen Walzertänzer Dancings und andere Tanzlokale: «Die Musette? Das ist intravenös gespritzter Champagner!» In Lima besingt der Walzer mit Gitarre und «cajon» die Liebe.
Photographies