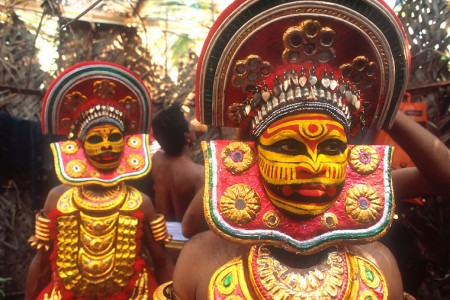 Directed by: Laurent Aubert, Ravi Gopalan Nair, Patricia Plattner, Johnathan Watts
Camera: Johnathan Watts
Editing: Patricia Plattner, Damián Plandolit
Sound: Laurent Aubert, Johnathan Watts
Music: Live
Original Version: Doc., vidéo, color, 52 min.
Release: April 2004
LES DIEUX NE MEURENT JAMAIS
Pendant la saison sèche, certains villages du district de Calicut dans le Sud de l'Inde célèbrent le Tirayâttam, ou « Danse de la splendeur ». Durant plusieurs jours, les villageois vivent au rythme des rites dédiés aux ancêtres et aux divinités protectrices. Ceux-ci se manifestent alors sur terre, incarnés par les danseurs au maquillage et aux costumes falmboyants. Les Peruvannân, une troupe familiale d'anciens Intouchables, ont la responsabilité d'organiser les célébrations.
Entre 1998 et 2003, Laurent Aubert, ethnomusicologue, et Johnathan Watts, photographe et vidéaste, ont séjournée à plusieurs reprises dans la région du Kerala. Accompagnés d'un spécialiste, ils ont rapporté pour le compte du Musée d'ethnographie de Genève plus de 70 heures de rushes. Confiés à Patricia Plattner, celle-ci leur redonne sens par un travail de montage rigoureux. Les partis pris dans Les Dieux ne meurent jamais sont stricts : pas d'interview, pas de voix off, seul un carton en début et en fin de film permet de mentionner quelques éléments essentiels.
Processions, sacrifices, séances de possession : la caméra plonge au cœur des cérémonies et de leurs préparatifs. Aux antipodes d'un didactisme convenu, ce film nous propose une immersion totale dans des festivités riches et complexes. Par ses postulats clairement établis, il nous amène à apprécier en premier lieu les qualités visuelles du spectacle et la force qui s'en dégage. Véritable explosion de couleurs et d'énergie, chaque étape du rituel est un moment de plaisir esthétique intense.
GODS NEVER DIE
During the dry season, certain villages in the district of Calicut in southern India celebrate the Titayâttam, or « Dance of the splendour ». For several days, the villagers live to the rythm of rites dedicated to their ancestors and to protective deities. These then make their appearance on earth, incarnated by dancers in flamboyant costumes and make-up. The Peruvannân, a family troop of former Untouchables, are responsible for organizing the celebrations.
Between 1998 and 2003, Laurent Aubert, ethnomusicologist, and Johnathan Watts, photographer and video director, stayed several times in the region of Kerala. Accompanied by a specialist, they brought back on behalf of the Musée d'ethnographie of Geneva more than 70 hours of rushes. These were entrusted to Patricia Plattner, who restored all their meaning and significance by scrupulous editing. The aesthetic limitations observed in Les Dieux ne meurent jamais are strict : no interviews, no voices off, simply a title card at the beginning and end of the film mention a few essential elements. Processions, sacrifices, sessions of possession, the camera plunges to the heart of the ceremonies and their preparations. Diametrically opposed to conventional didactics, this film offers us a total immersion in rich and complex festivities. With its clearly established assumptions, it invite us to appreciate first and foremost the visual qualities of the spectacle and the force it radiates. A veritable explosion of colours and energy, each stage of the ritual is a moment of intense aesthetic pleasure.
GÖTTER STERBEN NIE
Während der Trockenzeit feiern gewisse Dörfer im südindischen Calicut-Distrikt den Tirayâttam, oder den « Tanz der Herrlichkeit ». Mehrere Tage lang wird das Leben der Dorfbewohner von Riten geprägt, die Ahnen und beschützenden Gottheiten geweiht sind. Diese erscheinen dann auf der Erde, verkörpet von bunt geschminkten Tänzern in prächtigen Kostümen. Die Organisation der Feierlichkeiten obliegt den Peruvannân, einer Familientruppe bestehend aus ehemaligen Unberührbaren. Zwischen 1998 und 2003 hielten sich der Ethnomusik-Wissenschaftler Laurent Aubert und der Fotograf und Videomacher Johnathan Watts mehrmals in der Kerala-Region auf. In Begleitung eines Spezialisten brachten sie im Auftrag des ethnografischen Museums Genf über 70 Stunden « Rushes » zurück, die darauf Patricia Plattner anvertraut wurden und dank ihrer rigorosen Schnittarbeit eine neue Bedeutung gewannen. Die Richtlinien von Les Dieux ne meurent jamais sind strikt : weder Interviews noch Voice-Offs. Nur je eine Überschrift am Filmanfang und ende enthält einige grundlegende Informationen.
Prozessionen, Opfer, Besessenheit : die Kamera stürzt sich in den Wirbel der Zeremonien und deren Vorbereitungen. Durch diesen Film, der in diametralem Gegensatz zu purem Didaktismus steht, kann der Zuschauer voll in die komplexen und vielfältigen Festlichkeiten eintauchen. Dank dem klar definierten Grundprinzip können wir uns an den bildlichen Qualitäten der Darbietungen sowie der davon ausgehenden Kraft erfreuen. Eine richtiggehende Farb- und Energieexplosion, wobei jede einzelne Etappe des Rituals ein intensiver ästhetischer Genussmoment ist.
Photographies