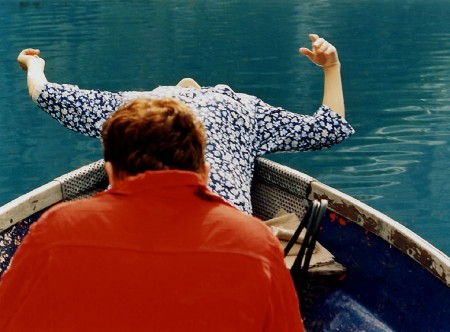 Directed by: Christophe Marzal
Script: Christophe Marzal
Camera: Séverine Barde
Editing: Jeanetta Ionesco
Music: Antoine Auberson & Arthur Besson
Cast: Mathieu Amalric, Julia Batinova, Jean-Luc Bideau, Maria Schneider, Mike Müller, Jacques Michel, Gilles Tschudi

Original Version: Feature, French, 35mm, color, 105 min.
Release: May 2004
AU LARGE DE BAD RAGAZ
Alex, guide touristique de profession, est chargé d'accueillir une jeune femme d'origine russe (Sacha). En participant à un concours, celle-ci a gagné un séjour d'une semaine à Genève.
Dès son arrivée, la jeune femme bouscule les plans d'Alex et l'entraîne avec elle dans une dangereuse et hasardeuse chasse au trésor aux confins de la Suisse orientale.
Recherchés par la police, pourchassés par la mafia, Alex et Sacha décident de semer leurs poursuivants en allant plus lentement qu'eux : ils progressent par les lacs et autres chemins détournés.
Au fur et à mesure que Alex et Sacha s'enfoncent dans une Suisse de plus en plus étrange, ils vont s'observer, se découvrir, se séduire, s'opposer, et finalement s'aimer jusqu'à disparaître.
OFF BAD RAGAZ
Alex, a professional tourist guide, is asked to welcome Sacha,a young woman of Russian extraction. She has participated in a contest and, consequently, won a one-week stay in Geneva. From the oustset, the young woman shakes up Alex's plans and drags himalong with her through a risky and hazardous treasure-hunt at the confines of Eastern Switzerland. Wanted by the police and hunted down by the mafia, Alex and Sacha decide to shake off their pursuers by moving about more slowly than the others: they then advance through lakes and other roundabout ways. While Alex and Sacha sink deeply into an ever stranger Switzerland, they will observe, discover, oppose and finally love each other to the vanishing point.
JENSEITS VON BAD RAGAZ
Alex ist von Beruf Reiseleiter. Er soll eine junge Frau russischer Abstammung herumführen (Sacha). Sie hat an einem Wettbewerb einen Aufenthalt für eine Woche in Genf gewonnen. Von ihrer Ankunft an bringt die junge Frau die Pläne von Alex durcheinander und verwickelt ihn in eine waghalsige und riskante Schatzsuche quer durch die ganze Schweiz. Alex und Sacha werden von der Polizei gesucht und von der Mafia gejagt. Sie entscheiden sich, ihre Verfolger in die Irre zu führen, indem sie sich langsamer fortbewegen als sie: Sie wählen den Weg über die Seen und andere Strecken ab von den Straßen und durchqueren so die Schweiz von West nach Ost. Je weiter Alex und Sacha in einen ihnen immer fremderen Teil der Schweiz vordringen, desto näher beobachten sie einander, desto mehr entdecken und verführen sie einander, bieten Widerstand und verlieben sich ineinander bis zum Vergehen.
Photographies