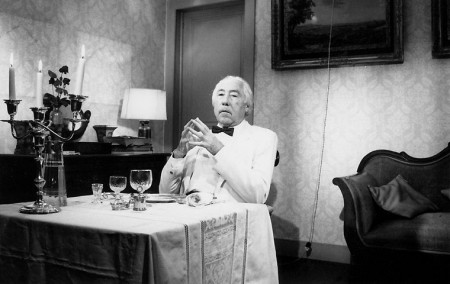 Directed by: Patricia Plattner
Script: Patricia Plattner
Camera: Aldo Mugnier
Sound: Pierre-Alain Besse
Editing: Loredana Cristelli
Music: Jacques Robellaz
Cast: B.I. Fedotov (Leo Eckmann), François Berthet, Pierre Michaelis, Natalie Gerber
Prime d'étude de l'Office fédéral de la culture, Département fédéral de l'intérieur, 1986, Suisse
Original Version: Short feature, No words, 16mm, 22′, b/w.
Release: 1986
LA DAME DE PIQUE
Un prince russe, exilé sur les rives du Léman, vit dans la nostalgie d'une époque et d'un pays perdu. Pauvre et seul maintenant, il se dépossède petit à petit de ses objets de famille auprès d'un antiquaire obséquieux et esthète. Le prince mort, un monde bascule. Pas forcément celui qu'on croit.
THE QUEEN OF SPADE
A Russian prince exiled on the shores of lake Geneva nostalgically lives for a lost time and country. Being poor and alone now, he sells off his family possessions bit by bit to an obsequious antique dealer. The prince passes away and the world is turned upside down, but not necessarily in the way you would think.
DIE PIK DAME
Ein russischer Adliger hat an den Ufern des Genfersees Zuflucht gefunden. Er lebt von den Erinnerungen an eine vergangene Zeit und an ein verlorenes Land. Einsam und arm geworden, überlässt er seine Familienerbstücke nach und nach einem unterwürfigen, aber stilkundigen Antiquitätenhändler. Als der Prinz stirbt, schwankt die Welt - jedoch nicht so, wie wir es erwarten würden.
Photographies