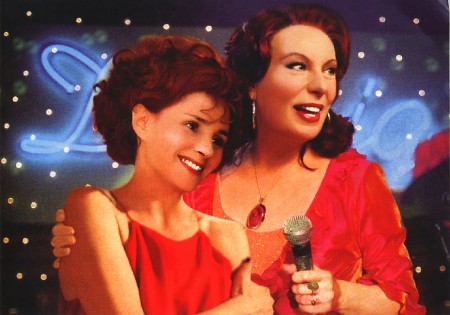 Directed by: Patricia Plattner
Script: Sarah Gabay, Jean Bobby, Patricia Plattner
Camera: Matthias Kaelin
Sound: Henri Maikoff
Editing: Jeanetta Ionesco, Maya Schmid
Music: Jacques Robellaz
Cast: Anouk Grinberg, Bernadette Lafont, Philippe Bas, Gilles Tschudi, Jean-Pierre Gos
Nominé pour le prix du cinéma suisse 2002 (meilleure fiction)
Original Version: Feature, French, 35mm, color, 96 min, Dolby SRD.
Release: April 2002
Les petites couleurs
Après une violente dispute, Christelle (Anouk Grinberg), une coiffeuse battue par son mari, prend la fuite. Elle échoue dans un motel vieillot, le Galaxy, fréquenté par des routiers et des représentants de commerce. Mona (Bernadette Lafont), la patronne, une émouvante et pétulante veuve, prend Christelle sous son aile et l'aide à retrouver goût à la vie. Elles se découvrent une passion commune pour un soap-opéra télévisé : "Le Ranch de l'Amour". Mais Christelle doit faire face au retour de son mari, alors que, grâce à Mona et à ce nouvel environnement, elle prend conscience de ses dons créatifs. Elle fait aussi des rencontres et découvre sa sensualité, le désir et l'amour de Lucien (Philippe Bas), un jeune camionneur. Tiraillée entre sa volonté d'autonomie et son désir d'amour, elle devient coiffeuse ambulante et sillonne les campagnes jusqu'au jour où Mona, Lucien et le dernier épisode de son feuilleton favori lui ouvrent de nouveaux horizons.
A little colour
Christelle, a hairdresser whose husband beats her, runs away after a violent quarrel. She ends up in a oldish motel called the Galaxy, frequented by truck drivers and travelling salesmen. Mona, the owner, a lovable and bubbly widow, takes Christelle under her wing and helps her to rekindle an interest in life. They both become passionately devoted to a TV soap opera entitled: " The Ranch of Love ". Christelle has to deal with the return of her husband. But thanks to Mona and this new environment she discovers her creative talents. She meets new people, and experiences her sensuality, desire and love in the arms of Lucien, a young truck driver. Torn between a longing for independence and her desire of love she becomes a peripatetic hairdresser roaming the countryside. until the day when Mona, Lucien and the last episode of her favorite TV serial open up unexpected new horizons.
Les petites couleurs
Nach einem heftigen Streit ergreift die von ihrem Mann geschlagene Coiffeuse Christelle die Flucht. Sie landet im altmodischen Motel "Le Galaxy", das von Lastwagenfahrern und Handelsvertretern besucht wird. Die Betriebsleiterin Mona, eine herzensgute und lebensfrohe Witwe, nimmt Christelle unter ihre Fittiche und verhilft ihr zu neuer Lebensfreude. Sie entdecken ihre gemeinsame Leidenschaft für die Fernseh-Seifenoper " Le Ranch de l'Amour ". Christelle wird sich dank Mona und der neuen Umgebung ihres kreativen Talents bewusst, knüpft neue Kontakte, entdeckt ihre Sinnlichkeit, ihr Verlangen und ihre Liebe zu Lucien, einem jungen Lastwagenfahrer. Doch da muss sie sich mit der Rückkehr ihres Gatten auseinandersetzen. Zwischen ihrem Wunsch nach Autonomie und ihren neuen Liebesverpflichtungen hin und her gerissen, beginnt sie als freiberufliche Coiffeuse durchs Land zu ziehen, bis zu dem Tag, als Mona, Lucien und die letzte Episode ihrer Lieblingssendung ihr neue Horizonte eröffnen.
Photographies