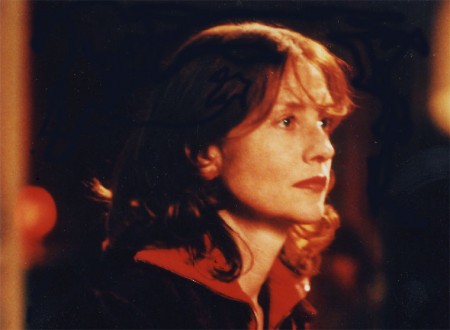 Directed by: Laurence Ferreira Barbosa
Script: Laurence Ferreira Barbosa
Camera: Christophe Beaucarne
Sound: Henri Maikoff
Editing: Yann Dedet
Music: Faton Cahen
Cast: Isabelle Huppert, Frédéric Pierrot, Lolita Chammah, Juliette Andrea, Jean-Pierre Gos, Robert Kramer

Original Version: Feature, French, 35mm, color, 120 min.
Release: 2000
Prime à la qualité de l'Office fédéral de la culture
LA VIE MODERNE
Marguerite, Claire et Jacques sont assis dans une voiture de métro. Marguerite se sent différente des autres adolescents, elle éprouve des difficultés à communiquer avec eux. Lentement, elle va s'éloigner du monde. Claire passe une journée à Paris et croise un célèbre chanteur américain qu'elle admire depuis toujours. Jacques est au chômage et sa femme l'a quitté. Suite à plusieurs coïncidences, Jacques doit s'improviser détective.
MODERN LIFE
Marguerite, Claire and Jacques are seated in the same carriage on the Paris underground. Marguerite feels different from other kids of her age, she has difficulty to communicate with them and is slowly isolating herself from the world around her. Claire is spending a day in Paris, where she happens to run into an American singer and celebrity she has always adored. Jacques has lost both his job and his wife. Through coincidences Jacques finds himself having to play detective.
DAS MODERNE LEBEN
Marguerite, Claire und Jacques sitzen in der U-Bahn. Marguerite fühlt sich anders als ihre Altersgenossinnen und hat Schwierigkeiten, mit ihnen zu kommunizieren. Langsam wendet sie sich von dieser Welt ab. Claire verbringt einen Tag in Paris und begegnet einem berühmten amerikanischen Sänger, für den sie immer geschwärmt hat. Jacques ist arbeitslos und von seiner Frau verlassen worden. Durch verschiedene Umstände muss Jacques in die Rolle eines Detektivs schlüpfen.
Photographies