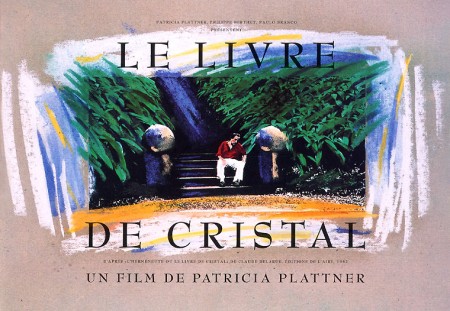 Directed by: Patricia Plattner
Script: Patricia Plattner, Didier Haudepin, Seth Linder
Novel: Claude Delarue, « L'herméneute », Editions de l'Aire, 1982
Camera: Matthias Kaelin
Sound: Daniel Ollivier
Art direction: Jean Bauer
Editing: Loredana Cristelli
Music: Jacques Robellaz
Cast: Jean-François Balmer, Valeria Bruni-Tedeschi, John Arnold, Jean-Pierre Sentier, Gamini Fonseka, Swarna Malawaracchi
Festival de Locarno, compétition, 1994, Suisse
Prix spécial du Jury, Festival de Minsk, 1994, Biélorussie
Original Version: Feature, French/English, 35mm, 110′, color.
Release: 1994
LE LIVRE DE CRISTAL
JB, orientaliste de renommée internationale, est envoyé au Sri Lanka par l'UNESCO pour déchiffrer un livre de cristal, découvert non loin de la région dominée par les tamouls.
Ce livre est un traité sur la mémoire que Bouddha dicta dans son grand âge. Il représente pour JB un défi à son passé troublé par le suicide de sa femme. C'est dans ce pays qu'il l'a aimée et qu'a eu lieu le drame. Entre-temps, il rencontre différents personnages essentiels: Da Silva, chauffeur et assistant, avec lequel il établit une relation privilégiée; Greene, archéologue à l'esprit étroitement cartésien; Juliette, jeune femme avec qui il noue une relation amoureuse; Rajan, un enfant tamoul, symbole de l'enjeu d'une culpabilité à absoudre et d'une action à entreprendre.
CRYSTAL BOOK
JB, an orientalist of international renown, is sent to Sri Lanka by UNESCO to decipher a book of crystal discovered not far from the area controlled by the Tamils.
The book is a treatise on memory dictated by Buddha in his old age.
For JB it represents a challenge to his past which is perturbed by his wife's suicide. It is here that they loved and the tragedy took place. In the meantime he meets various people of essential importance: Da Silva, chauffeur and assistant with whom he enjoys a privileged relationship; Green, an archeologist with a strict Cartesian mind; Juliette, a young woman with whom he has an affair; Rajan, a Tamil child who personifies the stakes of a guilt to be exonerated and a deed to be done.
DAS KRISTALLBUCH
JB, ein international anerkannter Orientalist, wird von der UNESCO nach Sri Lanka entsandt, um das Kristallbuch zu entziffern, das in der Nähe der von den Tamilen kontrollierten Gegend gefunden wurde. Das Buch ist eine Abhandlung über die Memoiren?, die Buddha im hohen Alter niederschreiben liess. Für JB ist das eine Herausforderung, sich mit seiner vom Selbstmord seiner Frau überschatteten Vergangenheit zu beschäftigen. Hier haben sie sich geliebt, hier ist die Tragödie geschehen. In der Zwischenzeit begegnet er verschiedenen wichtigen Personen: Da Silva, dem Chauffeur und Assistenten, mit dem er eine privilegierte Beziehung aufbaut; Greene, einem Archäologen mit einem streng kartesianischen Geist; Juliette, einer jungen Frau, mit welcher er eine Liebesbeziehung eingeht; Rajan, ein Tamilenkind, der symbolisch für das Spiel zwischen einer abzutragenden Schuld und einer zu vollbringenden Tat steht.
Photographies