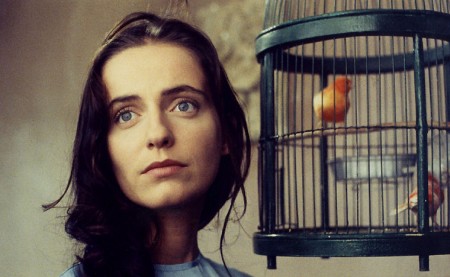 Directed by: Manoel de Oliveira
Script: Manoel de Oliveira
Camera: Mario Barroso
Sound: Henri Maikoff
Editing: Valérie Loiseleux
Music: Ludwig van Beethoven
Cast: Leonor Silveira, Luis Miguel Cintra, Diogo Doria, Micheline Larpin, Juliana Samarine
Original Version: Feature, Portuguese, 35mm, 180′, color.
Release: 1994
Prix de la Confédération Internationale des Cinémas Art et Essai – Cannes 1993
Mention Spéciale de la Quinzaine des Réalisateurs – Cannes 1993
Best Artistic Contribution Award – Tokyo 1993
Jaguar Maya 1993 du Meilleur Film – Cancun 1993
Second Prize of the International Press Jury for Léonor Silveira – Genève 1993
Prime à la qualité de l'Office federal de la culture
LE VAL ABRAHAM
Une «Madame Bovary» contemporaine et portugaise: l'histoire d'une femme très belle, dévorée par ses passions et sa faiblesse pour le luxe. Bien qu'adulée par son mari et ses amants, elle ne peut s'empêcher d'éprouver de fortes désillusions quant aux hommes et au cours des choses de la vie.
ABRAHAM VALLEY
A contemporary Portuguese "Madame Bovary": the story of a beautiful woman, consumed by her passions and her love of luxury. Adored by her husband and her lovers, she is nevertheless sorely disillusioned by men and life.
DAS TAL DES ABRAHAM
Eine zeitgenössische portugiesische "Madame Bovary". Die Geschichte einer sehr schönen Frau, die von ihren Leidenschaften und ihrer Schwäche für den Luxus verzehrt wird. Obwohl sie von ihrem Mann und ihren Liebhabern vergöttert wird, fühlt sie sich von den Männern und vom Schicksal schwer enttäuscht.
VALE ABRAÃO
Vale Abraão é a história de Ema, uma mulher de uma beleza ameaçadora. Para Carlos, o marido com quem casou sem amor, "um rosto como o seu pode justificar a vida de um homem". O seu gosto pelo luxo, as ilusões que tem na vida, o desejo que inspira aos homens, fazem-lhe valer o epíteto de "A Bovarinha". Conhecerá três amantes, mas esses amores sucessivos não conseguem suster um sentimento crescente de desilusão que a leva a definir-se como nada mais que "um estado de alma em balouço". Ema morrerá - "acidentalmente? Quem sabe?" - num dia de sol radioso, depois de se ter vestido como se fosse para ir a um baile.
Photographies