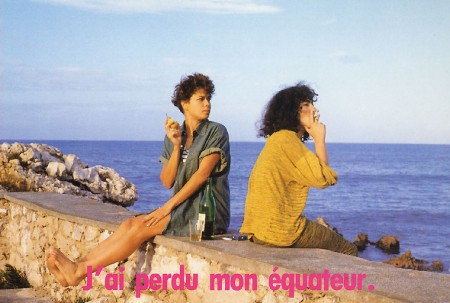 Directed by: Patricia Plattner
Script: Patricia Plattner
Camera: Matthias Kaelin
Sound: Paulo de Jesus
Editing: Loredana Cristelli
Music: Jacques Robellaz
Cast: Anne-Laure Luisoni, Rita Blanco, Diogo Doria, Daniel Wolf, Antoine Basler, Stefan Gusber, Paulo Branco
Festival de Locarno (compétition), 1989, Suisse
Prix Max Ophüls du meilleur espoir féminin pour Anne-Laure Luisoni dans le rôle de Marie, Saarbrücken 1989, Allemagne
Prix du public, Festival de Saarbrücken 1989, Allemagne
Prime à la qualité de l'Office fédéral de la culture, Département fédéral de l'Intérieur, 1989, Suisse
Original Version: Feature, French, 35mm (blow up), 95′, color.
Release: 1989
PIANO PANIER
ou la recherche de l'équateur
Une comédie sentimentale douce-amère. L'amitié de deux jeunes filles. Marie est suisse, Filipa d'origine portugaise. L'une est une éternelle étudiante, l'autre va se marier. A la suite d'un chagrin d'amour de Marie, Filipa propose qu'elles passent ensemble un mois au Portugal dans sa famille. Bien-être, conflits personnels et culturels. Bonheurs et malheurs, rencontres diverses. Une période de leur vie où elle doivent faire des choix. Parfois, ça leur donne le vertige.
PIANO PANIER
In Search of the Equator
A bitter-sweet sentimental comedy. The friendship between two girls. Marie is Swiss, Filipa is a Portuguese origin. One is an eternal student. The other is getting married. After Marie's love affair breaks up, Filipa suggests they spend a month together in Portugal in her family. A place full of peace as well as personal and cultural conflicts, happiness as well as grief, and chance encounters. A time in their lives when they have to make a choice. Sometimes it makes them giddy.
PIANO PANIER
Auf der Suche nach dem Aequator
Eine bittersüsse Komödie einer Freundschaft zwischen zwei jungen Frauen. Marie ist Schweizerin, Filipa portugiesischer Herkunft. Die eine möchte ewig studieren, die andere wird heiraten. Als Marie Liebeskummer hat, schlägt ihr Filipa vor, zusammen einen Monat in Portugal bei ihrer Familie zu verbringen. Dort ist es ihnen einerseits wohl, anderseits kommt es zu zwischenmenschlichen und kulturellen Konflikten, zu Glück und Unglück und zu verschiedenen Begegnungen: Ein Lebensabschnitt, der von den beiden jungen Frauen eine Entscheidung fordert. Dies versetzt sie manchmal in einen Taumel.
Photographies