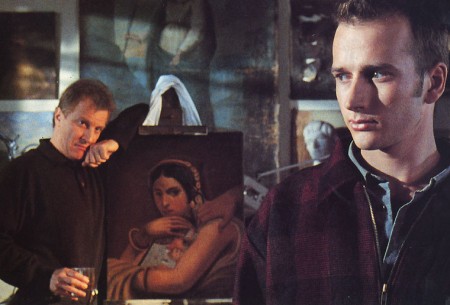 Directed by: Danièle Dubroux
Script: Danièle Dubroux
Camera: Fabio Conversi
Sound: Henri Maïkoff, Jean-Paul Loublier
Editing: Jean-François Naudon
Music: Jean-Daniel Senia
Cast: Danièle Dubroux, David Léotard, André Dussollier, Jacques Nolot, Manuella Gourary

Original Version: Feature, French, 35mm, 90′, color.
Release: 1991
Sélection officielle hors-concours – Montréal 1991
BORDER LINE
Un jour, Hélène se rend chez Charles Piétri, un homme qu'elle a aimé jadis et qu'elle n'a pas revu depuis vingt ans. Elle tombe sur Julien, le fils de Charles qui lui apprend que son père est mort.
Peu de temps après, elle rompt ses liens conjugaux avec Alexandre et ses relations professionnelles avec Georges Birski (il vient de lui commander la restauration d'un tableau), pour vivre avec Julien et se consacrer à lui totalement. Dans cette maison où Charles a vécu et où Irène, la mère de Julien viendra s'installer, Hélène découvre des signes troublants, des indices et même des preuves d'un lien inquiétant qui les unirait l'un à l'autre et qui va la pousser à commettre un acte insensé.
BORDER LINE
Looking for Charles Piétri, a man she loved some twenty years ago, Hélène meets his son Julien, who informs her of his father's death. Soon thereafter, Hélène ends her marriage with Alexandre and breaks off her professional relationship with George Birski (for whom she was about to restore a painting) in order to live with Julien and care for him.In the house where Charles once lived and where Irène, Julien's mother, soon settles, Hélène discovers strange clues revealing the existence of a disquieting relationship between mother and son. Hélène is led to committing a senseless act.
Photographies